I feel very beary special today and at the same time, ready to act like a kick ass blogger, thanks to Ferd of The Best Parts blog who kindly awarded me not one, but two thoughtful accolades, both of which are very much appreciated. Many thanks, Ferd!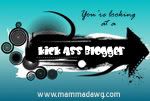 Some of my favorite people are of the enthusiastic variety, including Husband, Arnold Schwarznegger (in a nonpolitical way) and Ferd. If you haven't had a chance to visit Ferd's blog, please do, as his enthusiasm is quite catchy. It's hard not to leave without a smile, whether you're reading about his Craigslist experience or his reliving his formative years with Earth, Wind and Fire (the band, not the elements).
I'd like to pass these awards on to all on my eclectic blogroll, each of whom is beary special and can definitely kick-ass!
Next time: How I almost committed suicide by falling in a hole the size of a dinner plate, according to a stuper (short for a brazenly stupid person).
Think!
Keli
Keli@counterfeithumans.com