Tradition dictates that many of us make New Year's resolutions. As your resident stupidity specialist, I encourage you to add one vital and surprisingly reasonable, goal to your list to ensure that none of my dear, intelligent readers accidentally fall into the stuper (short, as you may know, for a plausibly stupid person) category.
Here it is: Clear out your clutter. Fairly simple, eh? No, I don't mean the clutter sitting haphazardly in the top of your closet created when you toss your sweaters, hats, t-shirts and random belts, or the books, paperwork and notes you shove and pile under your bed…oops; that's my personal junk I'm talking about. The clutter I refer to is housed in the same small space for all of us: the six or so incredible inches between our ears.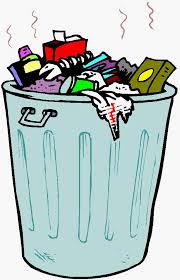 When our garbage cans are full, we non-stupers empty them. When our puppies need to learn proper manners, we train them. So why not do the same with our minds? It is a bit more difficult because we can't physically view the content of our minds as we do the overflowing rubbish and the doggy poop deposited beneath the kitchen sink poised to be stepped on with, hopefully, a slippered shoe. It takes effort to decipher the makeup of our minds.
When I notice my thoughts, I am sometimes appalled by useless and trivial content. Why was I thinking about how I longed to strangle or at least soundly pinch the idiot bagger at the neighborhood grocery store after she placed my crisp tortilla chips at the bottom of the shopping bag followed by the egg carton and two large glass bottles of juice thereby crushing the chips and a few eggs to smithereens? Such negative thinking makes us irritated which makes us vulnerable to acting stupidly ourselves. I should have focused upon how grateful I am to have such a valuable little market so close to my home and vowed to patiently assist the misbegotten bagger or taken over the bagging responsibilities completely myself after kindly elbowing said bagger aside. That would have replaced the unattractive scowl dimming my face with the beauty that only contentment can bring.
I had (note the past tense) an irksome habit of worrying about every little thing. "What ifs?" cluttered my mind immeasurably, leaving little space for the "how wonderfuls." Worry is a state of mind, popping up, at least for me, most often, in the dead of night. The moment I notice such thoughts I switch gears and immediately attempt to replace troublesome thoughts with the kinds that bring me happiness. I imagine myself, my loved ones, my home, my sociopathic Australian Shepherd, all as I'd like them to be, sketching in the little details and providing plenty of adjectives to describe my feelings.
Clutter prevents progress. Imagine trying to walk across a room stacked with piles of chairs, boxes and spare tires. You'll be in a sweat and sporting a few bruises before you make it through. And so it is with the messy mind. But it doesn't have to be when we take control.
Remember, we can't keep two opposing thoughts in the mind at once. One set always drives the other out. If your mind is completely occupied with an unselfish desire to help another, for instance, you can't harbor worry at the same time. It takes a bit of practice to unclutter the mind, but think of all the space you'll have to arrange and fill with excellent thoughts.
Whatever things are beautiful, whatever things are of value, if there is any virtue and if there is any praise, give thought to these things.
Happy New Year!
Keli
Keli@counterfeithumans.com